Remote Monitoring
Wherever you are, with Line, you can view live video from your surveillance cameras.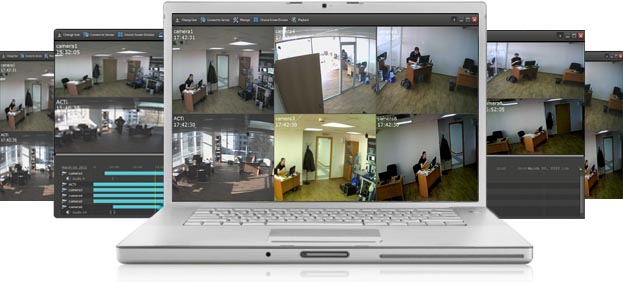 Multiserver
Multiserver is the ability to work with multiple surveillance servers running Line, regardless of their physical location. Cameras on any server can be viewed on a single machine and have the appearance of being connected to just one server. This is an ideal setup for organizations with multiple offices, as all surveillance cameras can be monitored from one centralized location.
Unlimited Network Clients
Line supports remote monitoring for an unlimited number of network clients. Video cameras can be viewed on the LAN or online by configuring the client software and entering your server IP address. The client-side version of Line is no different than the server software; server connection options are subject to the user privileges associated with whoever established the connection.
Remote Playback
| | |
| --- | --- |
| Remotely view recorded surveillance footage stored on the remote server, and export it to a folder on the local computer over LAN or the internet. | |
Remote Administration
| | |
| --- | --- |
| | All server settings are accessible remotely using the client software provided the user has the correct privileges. |
TURN
Provides connection to a server without a real IP-address, without requiring additional configuration of port translation. The service automatically works on all types of connections to the server: a PC workstation, a browser, and mobile clients.
Security
Line development is focused on network security to ensure the system has multiple layers of protection.
Secure login with username and password
IP address whitelisting
The ability to completely disable network access
Configurable ports (TCP/IP)
Web Client
| | |
| --- | --- |
| One of the main distinguishing features of Line when compared to other surveillance systems is the convenient ability to view live video surveillance over the internet using a web browser. Users can view footage from their cameras from anywhere in the world as long as they have access to the internet and a Flash-enabled browser. No other software is necessary; simply open a web browser and type the name or IP-address of the server and port number. Up to 16 cameras may be viewed using the web client, and PTZ cameras can be controlled remotely. | |
Mobile Clients
Live video surveillance can be viewed through mobile devices (PDA and mobile phone). Mobile device software can be downloaded from https://devline.nl/beta/devline-software-download/.
It is currently possible to view camcorder images through a variety of mobile devices.
Website Video Feed
| | |
| --- | --- |
| Users can stream live video from a camera on their website by inserting a small amount of HTML code. | |
Line Mini
Line Mini is a special client that does not require installation and discretely displays video from one camera in a convenient location on the computer desktop. The application is designed to both operate and monitor the most important camera, simultaneously. The size and transparency of the Mini Line window can be configured for optimal viewing by the user.