Line Cloud
 has introduced a new service — 
FTP server frame storage
. Along with SMS and E-mail trigger notifications you can now store important event-related frames on a remote server. There are several simple reasons why this new service is 
convenient and advantageous
.
Data security assistant
Line software developers pay special attention to archive functionality. Online video surveillance is not always as effective as the effective use of archived data. The ability to store frames in an FTP archive is an additional tool to help monitor your facility. The service is designed for safe archive data storage and management.
Click on image to view
Equipment failure is no reason to lose important archived frames.
Line FTP service is not designed to duplicate your video server archive. It stores only static frames from your cameras. They are stored on a remote server and you can view them at any time in your Line Cloud personal account. If your server hard drive fails, important archived frames will not be lost — they will be available in an FTP archive.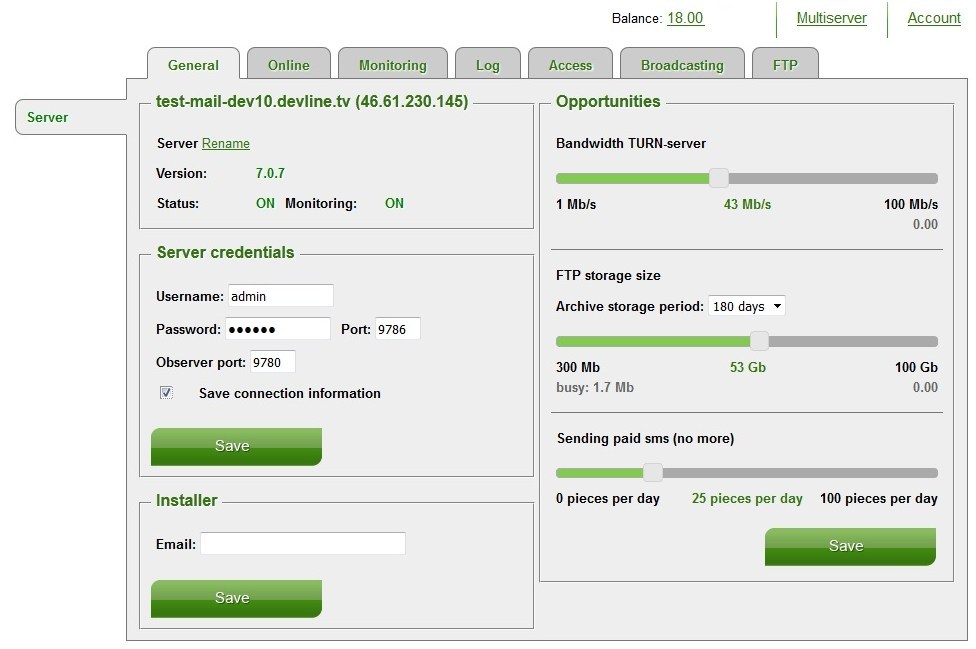 Click on image to view
Getting started with the service
Use Line software to set up triggers to store certain type of frames to an FTP server.
Users can access this file through the Line Cloud online service 24 hours a day.
Important frames will be stored on an FTP server, even if something happens to the video server and its archive is lost.
You also can save video frames to your computer.
The archive size is set using a user-friendly interface.
In test mode, each used is provided with 300MB of storage for free.
The cost of 1GB of storage — 10 cents a day.
Emergency situations under control
No one is completely safe from situations where archived video data integrity is threatened. For example, a fire at a plant can destroy a video server installed there, along with all of the archived records that could shed light on the causes of the fire. Or maybe some thieves have taken a video recorder, usually mounted in plain sight, along with other goods stolen from a store. Thus, the record of the theft would be lost, along with the ability to reconstruct the course of events and identify the perpetrators. Even if all on-site video equipment is destroyed, the record of what happened will remain on our easily accessible, around-the-clock FTP server.
Proper software configuration is the key to saving time and money
Proper service operation requires careful adjustment of triggers within the Line software regarding sound levels exceeding acceptable parameters, the loss of signal from a camera or motion detection in a protected area.
The following pictures show how to properly configure a motion detector in order to see who was passing through the hall at a certain time while not wasting space and time on invalid frames.
In the first case, a motion detector is triggered by opened doors and we get invalid frames. In the second case, a properly configured motion detector stores clear frames showing people approaching your office.